Epsilon, quality and trendy sparkling wines
by Ca' di Rajo
Epsilon is a project launched by Ca' di Rajo with the purpose to promote its mission of protecting and enhancing viticulture in the Piave area and the Bellussera system. The design of the label has been inspired by a desire to celebrate two local symbols: the Piave River and the vineyards cultivated with the Bellussera method
along its banks. The reproduction of the current flowing towards the infinite evokes the concept behind the name of this range, linked to the value of the Greek letter in the field of astrophysics.
Five new labels join design and quality, are the result of handpicked grapes and a research activity planned in winery and in vineyards. A contemporary declaration of spumante, that is ideally enjoyed "on the rocks", satisfying the tastes of modern consumers
EPSILON FIRE UP THE NIGHT
Thank's to a innovative technology of UV light, each EpsilonSparkling wine bottlebecome special on the night: The glamorous, colourful bottleslight up in the dark, creating a unique and impressive effect. This innovative design by Ca' di Rajo, join together tradition e modernity.
Epsilon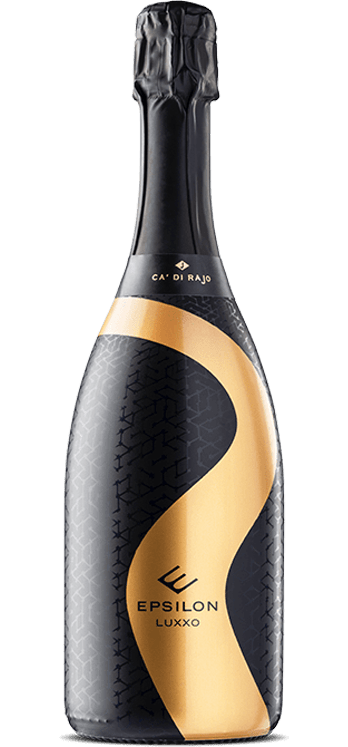 Epsilon Luxxo Vino Spumante Brut
Dal perlage durevole e dall'intenso color giallo oro, Epsilon Luxxo si apre al naso con note floreali, seguite da un sentore di frutta bianca matura che impressiona per eleganza e finezza.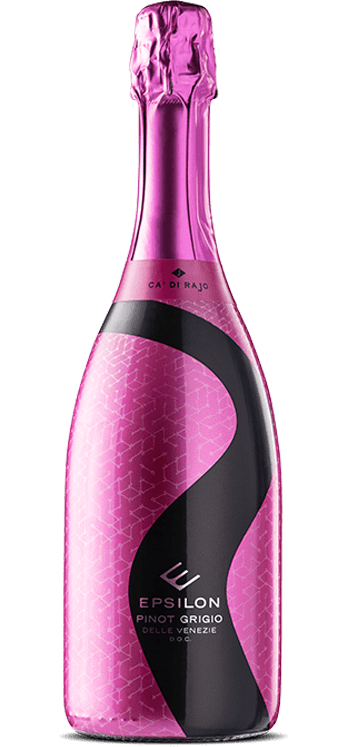 Epsilon Pinot Grigio Doc Spumante delle Venezie
Spiccano i sentori di frutta bianca, in particolare pera e mela golden, con un finale speziato. In bocca si presenta asciutto, deciso, pieno, armonico e sapido. Eccellente come aperitivo.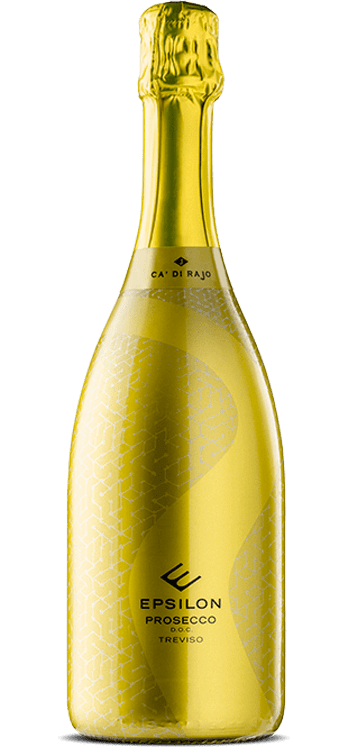 Epsilon Prosecco DOC Treviso Extra Dry
Il colore è giallo paglierino brillante, con perlage finissimo e persistente. Al naso si presenta elegante per i sentori di mela verde e per le note floreali che richiamano il glicine ed il biancospino. È gradevolissimo, leggero e invitante, di estrema bevibilità anche per la moderata gradazione.
Epsilon sparkling wines are able to offer the consumer a high-level taste experience, where tradition and innovation are combined. Wines with great drinkability that enhance the strong potential of traditional grapes,
Blends of typical local white grapes such as Pinot Grigio and Glera and modern interpretations of Moscato give a contemporary twist to the taste of the area's historic grape varieties.
Epsilon offers highly drinkable wines that combine tradition and innovation.. with blends of typical local white grapes such as the Pinot Grigio and Glera we add two modern "ICE" version: Prosecco Doc ICE and Moscato ICE.
Two contemporary declaration ofsparkling winethat is ideally enjoyed "on the rocks", satisfying the tastes of modern consumers, or in a traditional way.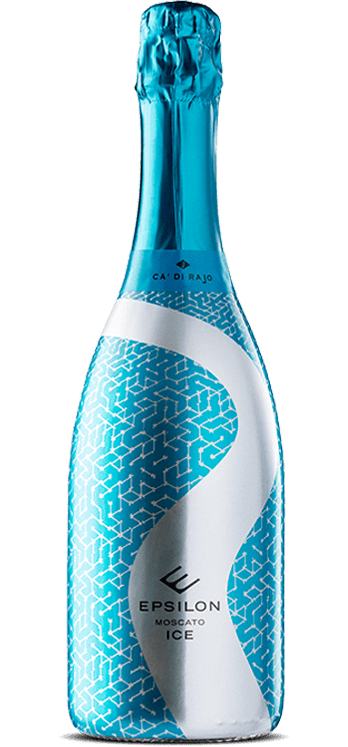 Epsilon Moscato Spumante Dolce ICE
Un piccolo gioiello per il palato. Il suo colore giallo paglierino brillante conserva la presenza di un buon perlage fine e persistente, al naso si rivela accattivante, di grande freschezza e intensità, con note profumate di salvia e frutti tropicali, pesca, arancia miele e muschio. Al palato mostra una natura avvolgente. È naturalmente predominante l'aroma tipico dell'uva Moscato ed ha un finale lunghissimo e delizioso.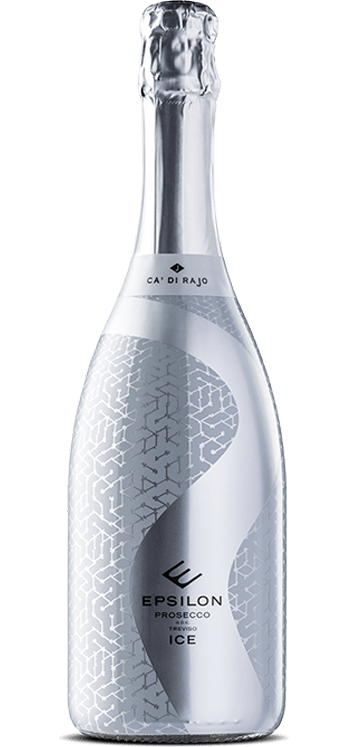 Epsilon Prosecco Doc Treviso Dry ICE
Giallo dorato intenso, perlage fine e persistente. Particolarmente fruttato il naso, guidato da ricordi di mango e guava, cui seguono richiami agrumati di pompelmo rosa. Fresco, voluttuoso e gradevole il sorso, contraddistinto da un retrogusto che ritorna sulla piacevole componente amara del pompelmo.