An ancient legend tells that the Devil comes down to Rai on "full moon nights" (that is "notti di luna piena" in Italian), placing one foot on the ancient tower and the other on the bell tower of the nearby church. This story has inspired the name of the company's signature wine, the Piave and the outspoken character of its inhabitants: the Raboso. This unique, ancient vine is able to create peculiar, structured wines with a great personality: impetuous and indomitable in their youth, they tend to soften and mature over the years, to express their character with higher levels of elegance and longevity.
To produce Notti di Luna Piena, the grapes are left to dry in a fruit cellar for about 90 days, after which wine is made. After alcoholic fermentation, the wine is left to age in barrels and barriques for about 36 months before being bottled. Its rashness is tamed, its vehemence restrained by time.
Its rashness is tamed, its vehemence restrained by time It is a structured, rich and generous wine that doesn't lose its elegance, claiming its position as a signature local wine. It has notes of cherries, sour cherry, blackberry, black cherry, plum, with hints of the intense aroma of cinnamon, vanilla, leather, tobacco, violet and pepper.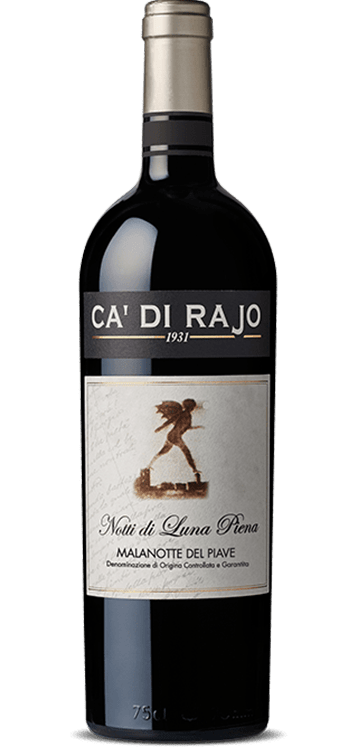 Concours Mondial de Bruxelle 2014
Berliner Wine Trophy 2009

Mundus VIni 2015
AWC International Wine Challenge - Wien 2014
Japan Wine Challenge 2013

Decanter Asia Wine Awards 2014

SELECTION 2012
It reminds of cherries, morel, dewberry, black cherry and plum with notes of cinnamon, vanilla, tobacco, violet and pepper.
Luxurious, with a considerable structure and heavy tannins. Its flavour, together with a pleasant acidity and a good alcohol content, gives a long and delicious aftertaste.
Clayey, sandy sometime gravelly.
Hand harvest at the end of October
With maceration of 20-25 days in wooden vats of 35 hl. The temperatures can vary from 24 to 26 degrees to facilitate the extraction of the grapes skin pigment.
30% of the grapes is dried in dry rooms for 40 days.
Yes, immediately after the racking using selected bacteria.
36 months in wooden barrels
Perfect with game, especially if dressed with herbs; it's good also with cheese such as grana padano and stravecchio. Great with fat dishes where its acidity cleans the palate.
Store in dry rooms, away from light or warm sources.