Epsilon Pinot Grigio delle Venezie DOC è uno spumante per veri intenditori prodotto da uve 100% Pinot Grigio, un uvaggio dalle grandi potenzialità tipico del territorio del fiume Piave.
Un territorio ed una tradizione vinicola che l'azienda Ca' di Rajo vuole preservare e celebrare con questa nuova linea di spumanti di qualità, dal design accattivante ed innovativo, rivolta al pubblico dei Millenials.
L'Epsilon Pinot Grigio delle Venezie DOC spumante si presenta in bocca asciutto, deciso, pieno, armonico e sapido.
Con i suoi sentori di frutta bianca, in particolare pera e mela golden, e il finale piacevolmente speziato, questo è un vino perfetto da bere come aperitivo.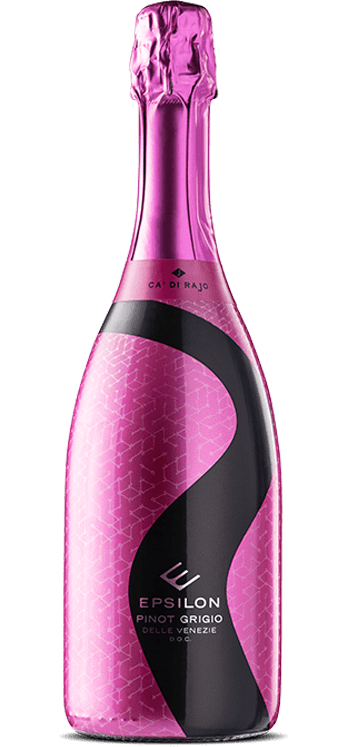 Pinot Grigio delle Venezie DOC
[:en]Claret pink with thin and persistent perlage.[:it]Rosa chiaretto con perlage sottile e persistente.[:]
[:en]The scents of fruits that recall the fuji apple, yellow peach and citrus fruits stand out. Fresh rose aromas and a slightly spicy final note predominate.[:it]Spiccano i sentori di fruttati che ricordano la mela fuji, la pesca gialla e gli agrumi. Predominano gli aromi freschi di rosa ed una nota finale lievemente speziata.[:]
[:en]In the mouth it is dry, firm, full, harmonious and sapid. Excellent as an aperitif, but also to accompany light fish dishes during the warm summer evenings.[:it]In bocca si presenta asciutto, deciso, pieno, armonico e sapido. Eccellente come aperitivo, ma anche per accompagnare piatti di pesce leggeri durante le calde serate d'estate.[:]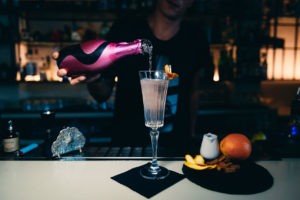 La
ricetta

di Ca' di Rajo
Solerno 15 ml
Sciroppo di Canella 10 ml
Epsilon Pinot Grigio delle Venezie Doc
Preparare nel mixing glass con profumo di arance amare.