L'Epsilon Moscato Spumante Dolce ICE è il moscato on the rocks pensato dall'azienda Ca' di Rajo per i Millenials che amano bere le bollicine con ghiaccio.
Un'interpretazione moderna ed innovativa dello spumante da uve Moscato che declina in chiave contemporanea il gusto di uno dei vitigni tipici di questa zona.
Questo spumante dolce, con il suo colore giallo paglierino brillante e il suo perlage fine e persistente, è un piccolo gioiello per il palato.
Al naso è accattivante, fresco ed intenso con note profumate di salvia e frutti tropicali, pesca, arancia, miele e muschio.
Al palato è avvolgente con una netta predominanza dell'aroma tipico dell'uva Moscato e un finale lunghissimo e delizioso.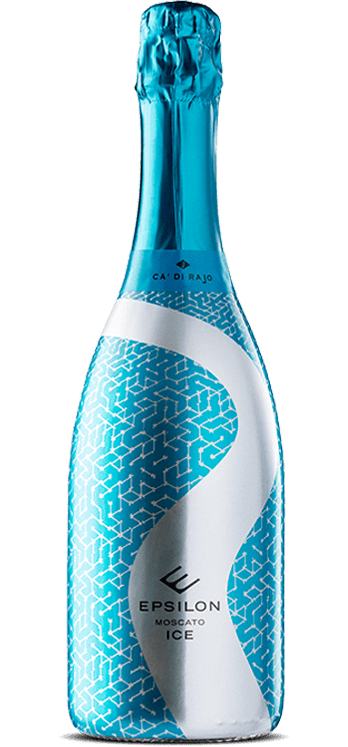 [:en]Straw yellow with fine perlage and persistent foam.[:it]Giallo paglierino carico con perlage fine e schiuma persistente.[:]
[:en]The nose is captivating, highlighting fresh and intense notes of sage, tropical fruits, peach, orange and acacia honey.[:it]Al naso si rivela accattivante, mettendo in evidenza note fresche ed intense di salvia, frutti tropicali, pesca, arancia e miele d'acacia.[:]
[:en]It is an aromatic wine, with a lively acidity that balances its natural sweetness within a moderate structure that gives the product a long and delicious finish.[:it]È un vino aromatico, con una viva acidità che equilibria la sua naturale dolcezza all'interno di una moderata struttura che dona al prodotto un finale lungo e delizioso.[:]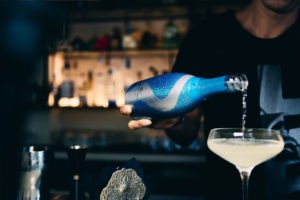 La
ricetta

di Ca' di Rajo
Tanqueray Ten 40 ml
Liquore Menta e Eucalipto 20 ml
Succo di limone 20 ml
Sciroppo di zucchero 15 ml
Epsilon Moscato Spumante Dolce ICE
Preparare nel mixing glass, shakerare tutto, aggiungere Epsilon Moscato Spumante Dolce ICE e profumo di cedro.